Internship in Biomedical laboratory Science -education: Eva's, Christiana's, Sonia's and Sia's story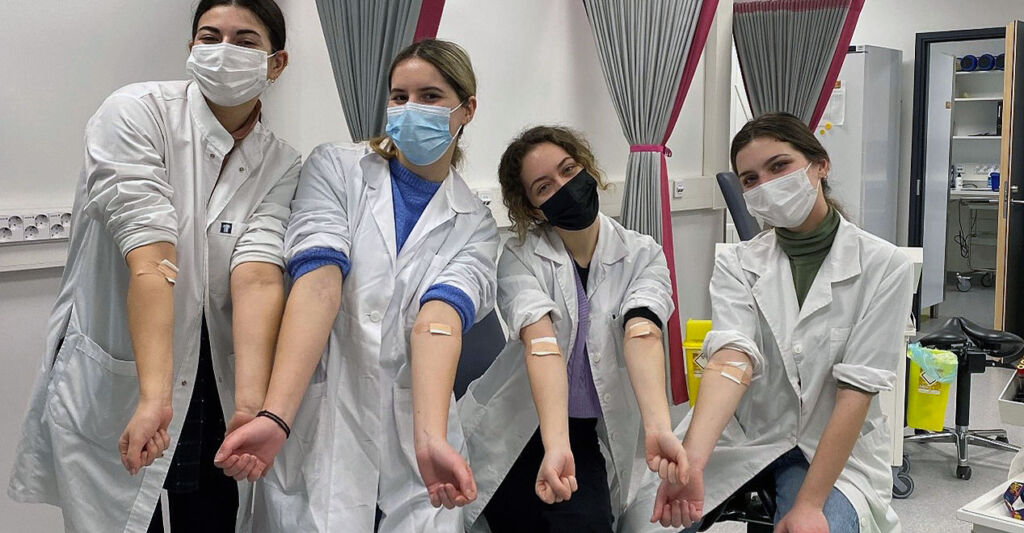 Studying abroad is one of the best experiences a student can have during studies, because it enhances knowledge and broadens horizons. Why did we choose Finland for our Erasmus program?
Our Erasmus journey started the day we applied for a country completely different from Greece, Finland. To be more precise, Finland was our first option as all of us wanted to live in a totally different culture, climate and educational system, far away from the safety of our home country. After our research, we found out that Finland has great universities, unique natural sights and great student events. Moreover, there is an advanced education system that prepares students for the real life and give them the tools to live a meaningful life.
Our experience in Turku UAS
The first day in Turku of University of Applied Sciences (Turku UAS), we explored the place and walked around the university's buildings and classes. We were fascinated from the modern architecture and the places that accommodate the Finnish and incoming students. Our department, Medisiina D, is a hospital university that has a great amount of advanced biomedical laboratories which includes high quality medical equipment. The labs that we had our lessons in, are very organized and made us feel how is the reality of a biomedical scientist.
We met Finnish students and talked with them about living and working in Finland, and the career services for international students. All our courses are taught in English, which helped us improve our academic level, while some of the courses made us realize how lucky we are to study in this university.
The Unique system of Innopeda Training
When we first arrived here, we soon discovered that Turku of University of Applied Sciences, has developed its own method of teaching of innovation pedagogy, Innopeda. Innopeda is a strategic approach to modern learning, it corresponds to the needs of future skills and competences, that aims to improve students learning by integrating teaching with research and development activities and collaboration with working life operators, thus leading to success in both the students work and personal life.
From our own perspective, comparing our student life in Greece, Innopeda is a system that focuses on helping the student fully comprehend the tasks at hand, by including a lot of laboratory hours in the student material, and less on how much they will score on their final tests. Most of the laboratory lessons, if not all, are graded on a system of Pass or Fail, where the teacher has to assess whether the student is capable of completing all of the required steps. For example, in Blood sampling, we were shown a few times the correct steps we have to follow for the procedure, and afterwards had to show it ourselves. We did not feel rushed or stressed to learn. It was a fun process and also a more relaxed experience, where a grade did not define our future.
Teaching Buddies
One thing that we found extremely interesting was that in BLS-education tutor-students are used to instruct younger students. Undergraduate students need to fill out a certain amount of hours of laboratory practical training after their completion of theoretical studies in order to officially graduate. They achieve that either by doing their practical training in different departments of the hospital or by tutoring the undergraduate students during the laboratories. After the completion of their hours, they get evaluated not only from the teachers, but also from the students and based on their performance they graduate or have to do more practical training.
Our experience with the tutors was very satisfying, as we got to learn how to operate in a laboratory from a different perspective than the one, we were used to. We must admit that it was easier for us to feel comfortable around our tutors, since we are closer with them age-wise and they could still relate with our struggles as students. All of them were very approachable and they cared to explain to us, as many times as needed, the things that we had to understand. We can say with certainty that working with them helped us a lot in getting familiar with the machines in the chemical labs and being more confident while taking blood samples. Even though this teaching system was quite different from the one that we have back in Greece, it definitely made us learn more. We are very thankful to all of them for being so assisting when we needed them.
Conclusion
It was a pleasure that we had our semester in Turku, Finland. We are full of memories and experiences thanks to our university, tutors, mentors and professors. We are highly recommended to other incoming students to live this experience and try to gain as much as they can from everything. Because we only live once!
Thank you Erasmus!
Authors:
Tzouveleki Evangelia, Bregu Brikena Christiana, Giamarellou Sofia & Rigkou Athanasia
Lecturer Anniina Friman
Turku UAS, Biomedical laboratory science